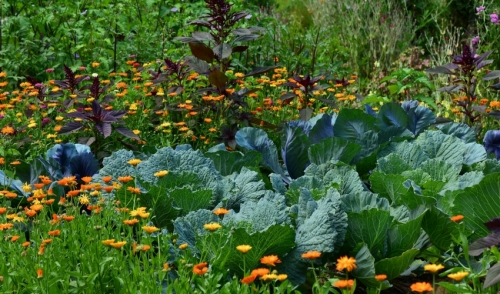 It's been a hot one! Thankfully, our south Louisiana summer is starting lose her steam. Literally. It's time to say thank you and goodbye to most of our lovely, but tired summer annuals and hello to the harbingers of cooler weather! Petunias, snapdragons, dianthus, ornamental cabbage/kale and marigolds are beginning to fill our greenhouses. Pansies and violas are not too far behind them.
As you pull up some of your summer color to make room for these new pretties, remember to amend your beds to replace lost nutrients after a long, hot summer. I recommend adding a bale of Happy Frog soil conditioner to tired beds. If you're creating a brand new garden space, use Showscape Organic garden soil as your base and mix the Happy Frog soil conditioner with it. Beneficial bacteria, lots of good microbes and earthworm castings will help your plants to thrive! For container gardening, I love the FoxFarm potting mixes. You can use them independently or mix them with our own Louisiana Nursery formula. We have many to choose from, depending on your specific needs. Let us know!
Now that we have a healthy foundation, let's talk about the flowers! All of those I mentioned earlier LOVE our south Louisiana winters.
Wave/garden petunias, dianthus, snapdragons and ornamental cabbage/kale will easily make it through winter. They love the chilly temps! Plant now for color that will carry into the spring and even early summer!


Marigolds enjoy the cold weather, but they have a more difficult time making it through a hard freeze. However, our fall tomatoes, peppers, broccoli, cauliflower and cabbage sure do appreciate the companion planting! Help keep those insects away! If we have a very mild winter, marigolds will bloom into early-mid summer and beyond.


Pansies, violas and panolas (a mid-sized hybrid of the two) will bloom, here, no matter what old man winter throws at them. They show up in the greenhouses later than the others, because they dislike our higher temps. It's best to plant these guys from mid-October through early-December and you'll enjoy blooms into the spring!
Having mentioned all of these beautiful winter flowers, don't forget about that fall color! We have plenty of good weather for Crotons, mums and Crossandras (my favorite- I love orange!) to create that gorgeous autumn display.
Dirty fingernails and happy gardening to you!