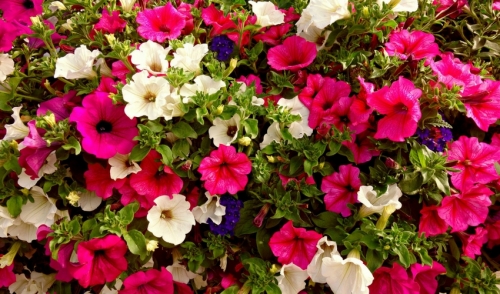 When it comes to petunias, there are so many options out there. Wave, Grandiflora, Dreams, the list goes on. Whether its sun or some light shade, you can brighten up any garden or pot using petunias. There are so many colors, you are certain to find a combination that will please!
Plant Characteristics:
Petunias grow in different sizes depending upon which variety you choose. Some will have a more mounding nature, while others will trail or run in a spreading fashion. They will bloom in fall into winter, ceasing when it gets too chilly. They will also put on a second show for you come spring! This makes the petunia a wonderful annual when looking at the most bang for your garden buck! They are also not toxic to the family pet so if you have a dog or cat that likes to root around in the garden, no worries.
Plant Care:
Care for the petunia is relatively simple. Make sure they get plenty of water, especially while it's still warm. You can back off the watering as the weather begins to cool, as evaporation rates decrease in the fall and winter months. Petunias are heavy feeders so fertilizer, whether it's a liquid feed or a granular bloom booster, really help the plants perform at their peak. Many customers add bone and blood meal to the soil when preparing the beds for their annual color. This adds nutrition to the soil organically rather than chemically if you prefer to use organic fertilizers.
Uses:
Petunias can be used in the ground or in pots, adding vivid color to any area of the garden. My uncle used to pick what he called "party colors" in the beds around the swimming pool when I would help him get ready for Thanksgiving with the family. Bright pink, deep blue, and white were his "party colors". These days, you can find striped, colored margins on the blooms, even black and chartreuse!! Petunias are great to use in pots, as they cascade down the sides, dripping with color!
With so many choices and colors out there in the world of petunias, you'd be hard pressed to NOT find a combination you'll enjoy in fall as well as spring. Whether it's in the garden or in a pot, give some a try this season!