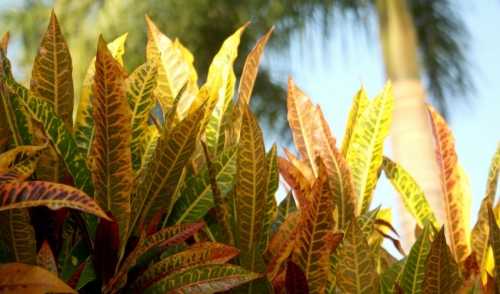 Who doesn't love fall!?! Pumpkins, cooler weather, football and fires! Many of us enjoy putting together fall displays outdoors. Using hay bales, mums, pumpkins and a little imagination, you can have a beautiful fall display that's a show stopper! Another tried and true plant we often use in these displays are crotons. The cooler weather and sunshine bring out the array of colors hidden in the foliage.
Plant Characteristics:
Crotons are tropical plants that can grow large (6 feet tall and 3 feet wide) if desired and kept protected from freeze. Most of the time, we don't let them get that big with a little pruning. The blooms are insignificant so we classify this as a foliage plant. Crotons are toxic to dogs and cats, though it is a minor toxin which means non-lethal for your pet. Symptoms will include vomiting and diarrhea if ingested.
Plant Care:
Caring for crotons will depend on the time of year and whether you are using them indoors or outdoors. They are relatively tough little plants that can take temperatures almost in the 30s without being affected. They do need plenty of water during the growing season, while allowing them to dry in between each watering. You'll know if you need to water when you see the foliage begin to wilt. Use a basic fertilizer like Osmocote or Growers Special when looking to feed them. The soil you plant them in should be well drained. The colors in the foliage show best when placed in a full sun area but can acclimate to a little shade also if desired. When winter begins to set in, what I like to do is bring them indoors and use them as a houseplant in a bright room. This will protect the croton from freeze and they make beautiful houseplants, bringing a little bright color into your house when it's cold and dreary outside.
Uses:
You can use the crotons in the garden as well as in the home for decoration. Commonly used for fall décor due to the vivid orange, yellow and green in the foliage, Crotons can also just be a pretty little tropical houseplant as well.
Fall finally feels like it has arrived and there nothing that can rejuvenate the spirit quite like gardening this time of year. Whether inside or out, use a few crotons around the home and garden to brighten up any area.