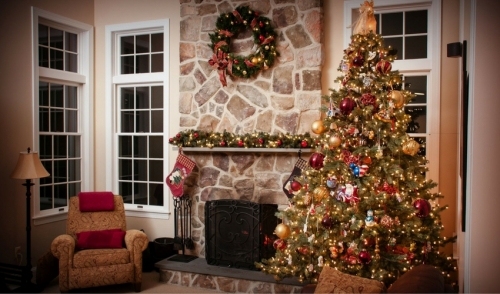 The holiday season is upon us! It's time to deck the halls. This can be done by simply adding some fresh garland to your mantel or dining table. If you are buying for your mantel measure it and add 1ft for overhang. Once you get your garland home it should be soaked overnight in water and tree preserve. This will help put the moisture back into your garland, so that it will last longer. After it has soaked overnight lake it out and allow the water to drain off before placing it on your table or mantel.
Now that your garland is in place try adding a few candles to set the ambiance on your tablescape. This can be done with real or flameless candles. When adding it to your mantel mix some Christmas decor in. Maybe a few reindeer, nutcrackers, candles or a Santa. You could even make it more elegant by adding some LED string lights with a timer.
To keep the garland fresh mix some preserve in a spray bottle and spritz the garland once a week. If you don't think you can keep the fresh garland alive you could always use artificial garland. It can be bought in 9ft sections, with or without lights. You could even add some ScentSicles for that fresh garland smell.
Have fun with your Christmas decor and let your imagination run wild. Hey, you could even add a small fresh wreath to a foyer or coffee table. Place a few candles in the middle and you have a great centerpiece that only takes a couple minutes to put together. Happy Holidays!