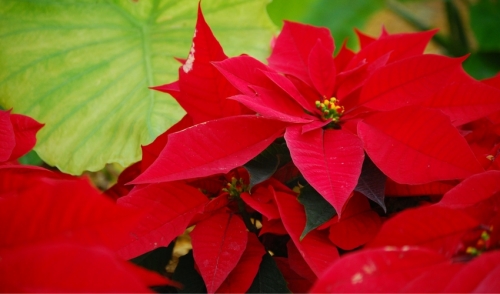 Poinsettia plants or "Points" are a Christmas must have. They add class and color to any Christmas party you throw yourself or go to this season. They also make great gifts! Poinsettias are traditionally used as a living decoration at Christmas. They come in several colors including marbled, pale yellow, pink and, of course, red. They add Christmas spirit in any room in your home with enough quality light. Poinsettias only get about 2 feet tall and wide when grown as an indoor plant and don't need much babying when you first get one. Here are some things to keep in mind when buying your Points.
They are tropical plants therefore they need to be protected from extreme cold weather. Protect the plant any night we drop below 35 degrees. You should only water your Points when the top few inches of soil feels dry. As far as placement in the home, pick rooms that have bright, indirect light. A South-facing window is ideal, but any room with plenty of quality light will suffice. Make sure to keep the plant away from where your heater vents point as this can dry it too quickly. When you initially buy a Poinsettia, it will not need fertilizer. Wait until mid spring of that year. At that time, cut your plants back to a few inches and use a liquid soluble fertilizer every couple of weeks to pull out new growth. You will also need to mist them occasionally during the winter to keep needed humidity around the plant.
Every year I get the common question "AREN'T POINSETTIAS TOXIC!?!?!". This is a common misconception that was based on an urban legend that came about in 1919 involving a 2 year olds death from ingesting Poinsettia leaves. The truth is this; the toxicity of Poinsettia plants is minimal for both pets and humans. To give some perspective, it would take a 50-lb child 500 or more brachts (set of colored leaves) to create dangerous levels of the toxin. The short answer is "NO" they are not toxic, so don't be afraid to use them to decorate your home for the Holidays.
HOW DO I GET MY POINSETTIA TO BLOOM AGAIN NEXT YEAR?
I am often approached with this question by our customers during the Christmas season. Here is a website I like to reference for instruction.
This takes you month by month and step by step through the process. Once you've been successful a few times, you'll know where and when you can revive last seasons Poinsettia. Enjoy one in your home this Christmas!