Join Our Garden Club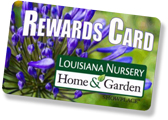 Sign Up for the
Louisiana Nursery Garden Club
To sign up for the Garden Club, please fill out the following application.
* - indicates required fields.
Member Benefits
Rewards Card:
Earn 1 point for every dollar you spend
100 points = $5 on your cardPoints convert twice a year
Exclusive sales, offers and discounts
E-Newsletter:
Sent every Friday
Tip, plant, and pest of the week
Advertised Sales and Specials
Coupons
Advanced notice of events
How it Works
When making a purchase, give the cashier your rewards card to be scanned. You will receive 1 point for every dollar you spend. Points are earned year-round and are converted to dollars twice a year – May 15th and December 15th – in increments of 100 points – every 100 points awards you $5 on your card. Unused points never expire and will carry over to the next conversion. You will have two months to use your rewards dollars.
Please Read the Rules
Your privacy is respected; we will not sell, rent or provide your information to anyone.
Rewards dollars are earned for every dollar you spend.
Rewards dollars are redeemable for any retail purchase after conversion dates for two months.



May 15th through July 15th
December 15th through February 15th

Returned items will show on your account and will reduce your points value.
Rewards dollars are non-transferable and not redeemable for cash.
This is an opt-in only program; you must sign up to participate.
We cannot post-date purchases prior to signing up.
Louisiana Nursery reserves the right to change or rescind the rewards program at any time.
Sign up for exclusive offers, information and updates!
We are constantly adding new specials to our site. Be sure to check back often!
We currently do not have any events scheduled.
Contact Us Anytime
Feel free to contact us anytime with comments or questions. Our trained staff is ready and waiting to help you. Use this form to contact us and we'll be in touch soon.