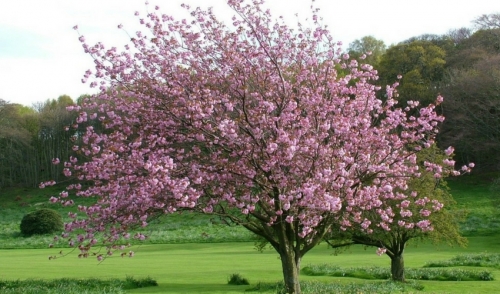 One of the most noticeable trees in our area has to be the Japanese Magnolia. They are covered in blooms before they leaf out in late winter allowing these specimens to stand out in any landscape. They have a stunning natural structure that is reminiscent of a crepe myrtle or can be single trunk as they mature and have the citrusy, musky fragrance that is associated with traditional magnolias. Here is how to care for and properly use them in the landscape.
Characteristics:
Dimensions: 8-25 feet tall and 10-15 feet wide
Growth Habit: Upright, Multi-trunk and single trunk depending on cultivar
Foliage: Green foliage, deciduous, losing leaves in late fall
Blooms: Vary in color including pinks, whites, purples and reds. Blooms will appear inlate winter and open during mild winters into spring.
Cold/Heat Tolerance: Once established, these trees can withstand cold or heat in our climate
Growth Rate: Moderate
Toxicity: No part of this plant is toxic to pets or people
Care:
Sun/Shade: Prefers part sun (3-6 hours of sun) to full sun (6+ hours of sun) per day
Water: Water deeply and regularly upon initial planting. Once established, you can water less frequently unless heavy rainfall or drought occurs.
Soil: Well-drained soil with an acidic pH of 6-6.5 will allow the tree to flourish. Heavy soils, such as clay, should be amended to loosen and break up the soil.
Fertilizer: Fertilize in late winter (Late January, early February) with a general fertilizer like Growers Special or Osmocote. These are slow release fertilizers that will last into the spring for you.
Pruning: Pruning should be done as needed before foliage begins to flush out inspring. Bring the canopy up to desired level and remove any dead wood or crossing / rubbing branches so as not to incur wounds which will allow fungus and insect damage to enter.
Uses: Japanese Magnolias can be used in the landscape as specimen trees or accents. Cultivars like "Alexandria" which grow larger work better as specimens, but popular cultivars like "Jane", which are smaller work just as well. Noted for their blooms, these trees put on a show every year and draw attention to any area they are planted. Japanese Magnolias are a beautiful addition to the landscape and add a structural aesthetic quality to your garden. The blooms showcase the ornamental value of this tree. If you're looking for a specimen for your garden, look no further. This selection will fit the bill!